American Board of Pediatric Dentistry Certification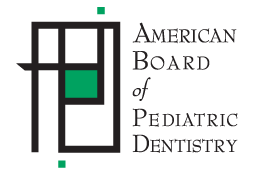 The American Board of Pediatric Dentistry (ABPD) was organized by the American Society of Dentistry for Children in 1940. It is the only ADA-recognized certifying board for the specialty of pediatric dentistry.
The vision of the American Board of Pediatric Dentistry is to achieve excellence in pediatric dentistry through certification of all pediatric dentists.
Pediatric dentists that are certified by the ABPD have met the standard of excellence set forth in providing high quality oral health care for infants, children, adolescents, and patients with special healthcare needs. When a pediatric dentist becomes certified, he or she has successfully completed accredited training and a voluntary examination process designed to continually validate the knowledge, skills, and experience required to deliver the highest quality of patient care.
Certification also reflects a dentist's commitment to lifelong learning and continuing education. ABPD-certified dentists have a desire to practice pediatric dentistry at the highest level and are dedicated to constantly reevaluating their practice in light of the most recent scientific evidence.